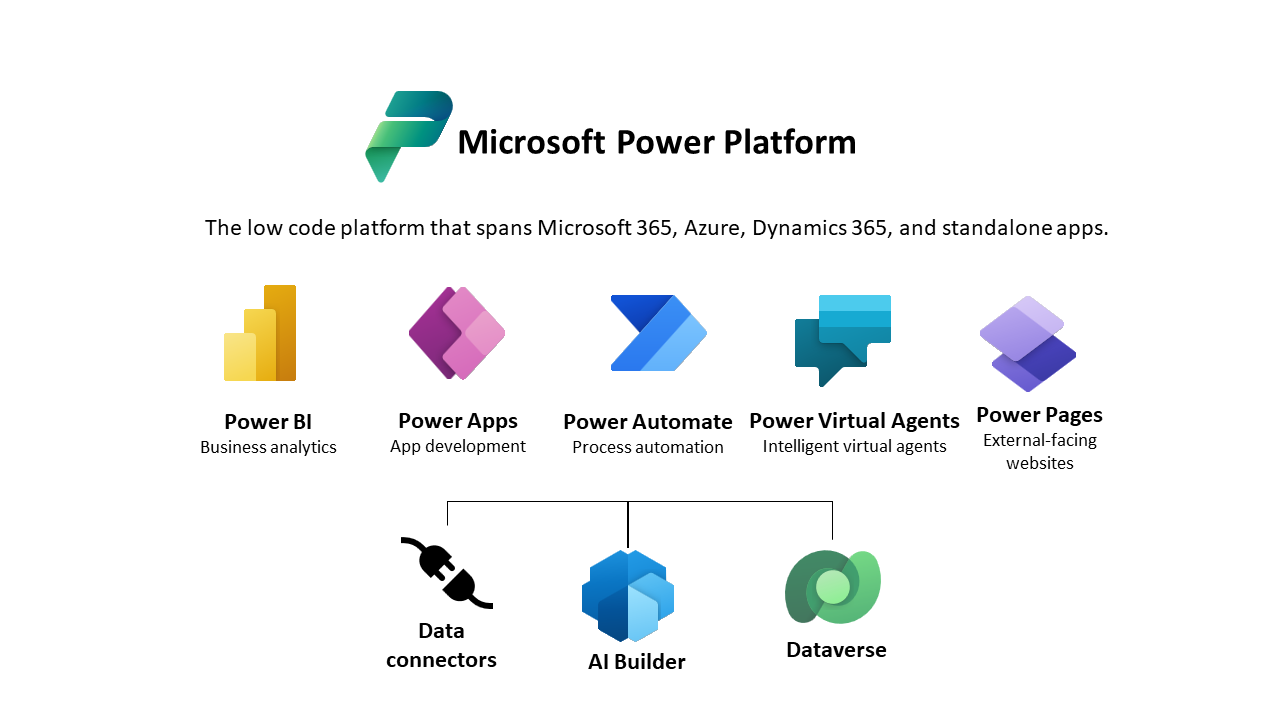 Do you keep hearing about the Microsoft Power Platform, but don't really know what it is?
Here's a high level overview from our Head of Power Platform, Aaron Gumbs, and why you should be interested. 
The Microsoft Power Platform is a series of products that improve productivity and automation.
At the time of writing, there are five "Power" products: 
Power Apps
Build your own apps to make the most of your O365 investment. Apps are the next step to really adding value to your platform. 
The purpose of being able to build your own app is you can tailor it to exactly fit your requirements. 
Create an application for desk-based users, or users on the go by using model-driven and canvas app capabilities respectively. 
You don't need to be a technical expert to build apps. With built-in templates and simple drag and drop capabilities you can empower your people to get creative. 
You can expect a faster, higher return on investment than the high-cost of a software development programme. 
Power Automate
Do you need help to simplify complicated and time-consuming tasks? Want to get some time back for your team to spend with your customers rather than paperwork? Automation can help.
Spend less time on manual processes, and instead focus your time where it can be of most benefit to your business.

Simplify tasks and connect processes for streamlined ways of working, saving you time and increasing productivity.

Reduce the risk of human error and save money with reliable automation, making your work more efficient.
Automate common and critical path tasks across multiple data sources in the cloud using cloud flows or business process flows, or record steps and actions for legacy systems by using Robotic Process Automation via desktop flows. 
Power Virtual Agents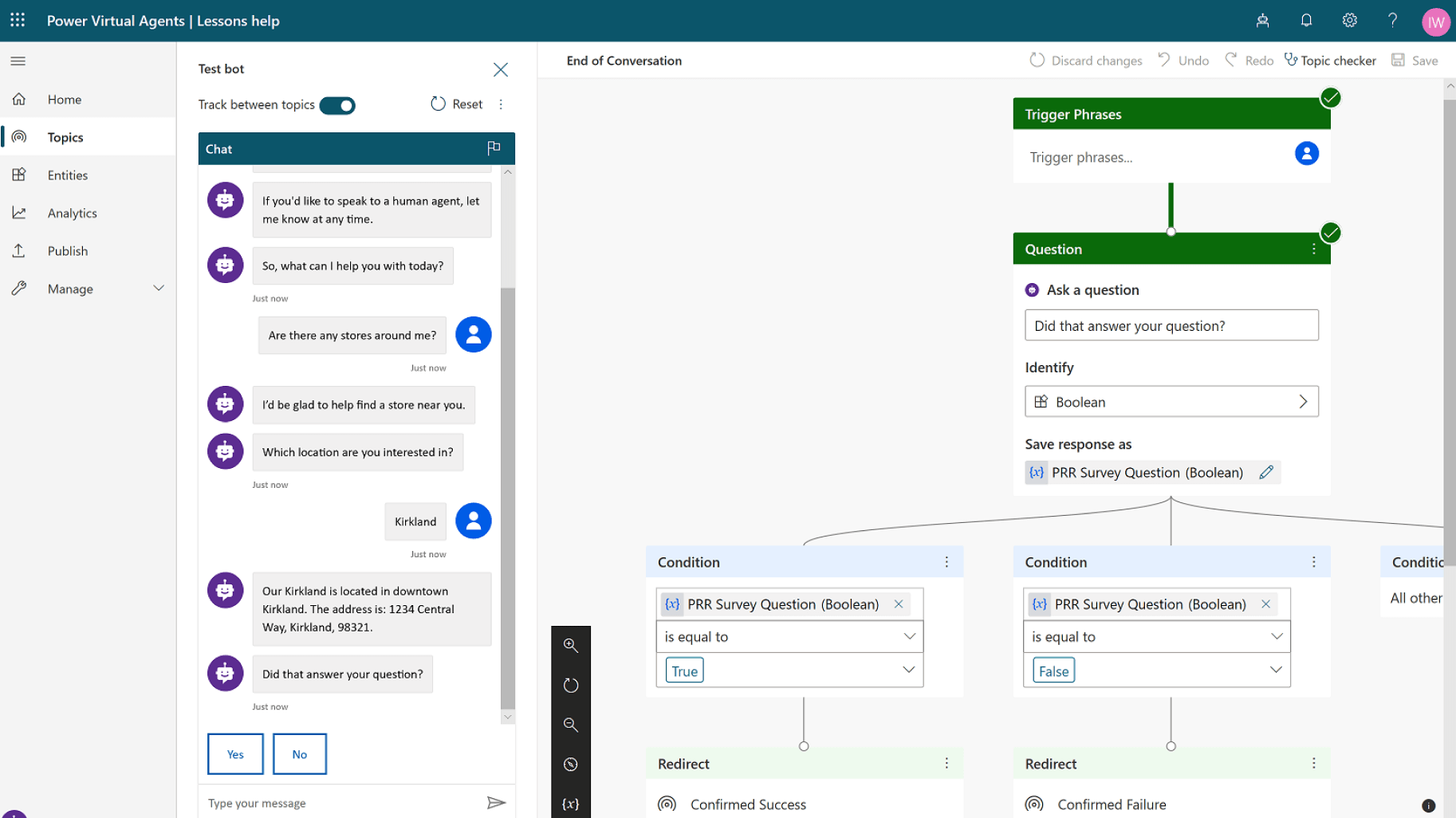 Want 24/7 support for your people or customers? Take the burden away from common questions that always require the same answer, by deploying a Power Virtual Agent to your website or your team. 
Using machine learning, over time your bot will grow to understand your organisation and the types of questions that people may have.

24/7 bot support at your fingertips. Having an always on support team that's available when your customers need it.

Implementing a bot is fast and inexpensive to implement, and teaches itself, reducing the need for updates and ongoing maintenance.
Power BI
Join the dots between data points by connecting to multiple data sources and transforming data. 
Power BI enables individuals throughout your company to gain insights from the data that matters most and assists your organisation in making data-driven choices.
Power Pages
Interact with your customers, employees, alumni, partners, and more, by creating an external website which integrates with your business data safely and securely. 
The capabilities within these five products are endless, and far too much for one blog post. Most importantly, each of these products are configurable and for common scenarios very little code (or even no code!) is required to get started. 
Licensing can wildly vary per product but also based upon your existing Microsoft 365 tenant, and it's likely that you're able to utilise some of these capabilities already within your existing licenses. Power Automate Desktop even comes pre-installed for free in Windows 11! 
Consider both personal and business productivity when reviewing your requirements: 
How can I personally save time during the day by implementing these tools? 

How can we ensure that all of our employees carry out the business process in exactly the same way every single time to the same level of quality? 
Examples of 'quick wins' using the Microsoft Power Platform: 
Desk booking application that allows you to reserve a hot-desk at your office in a post pandemic world. 

Automated Teams messages for frequent reminders, such as ensuring that your team fill in their timesheets on a Friday! 

Viewing remote working locations of your team. 

Reporting on website analytics against our customer base. 

IT Helpdesk chat bot in order to resolve common queries that the team may ask in their day role. 

A contractor portal where invoices can be created, received, and processed. 
Understanding how these tools can work together in an efficient way requires seeing how they streamline actual business processes.
Interested in learning more about the Microsoft Power Platform? Why not contact Changing Social for a free consultation to discover how we can help you get started? Simply fill out the form below or send an email to [email protected].
Share
Related Posts