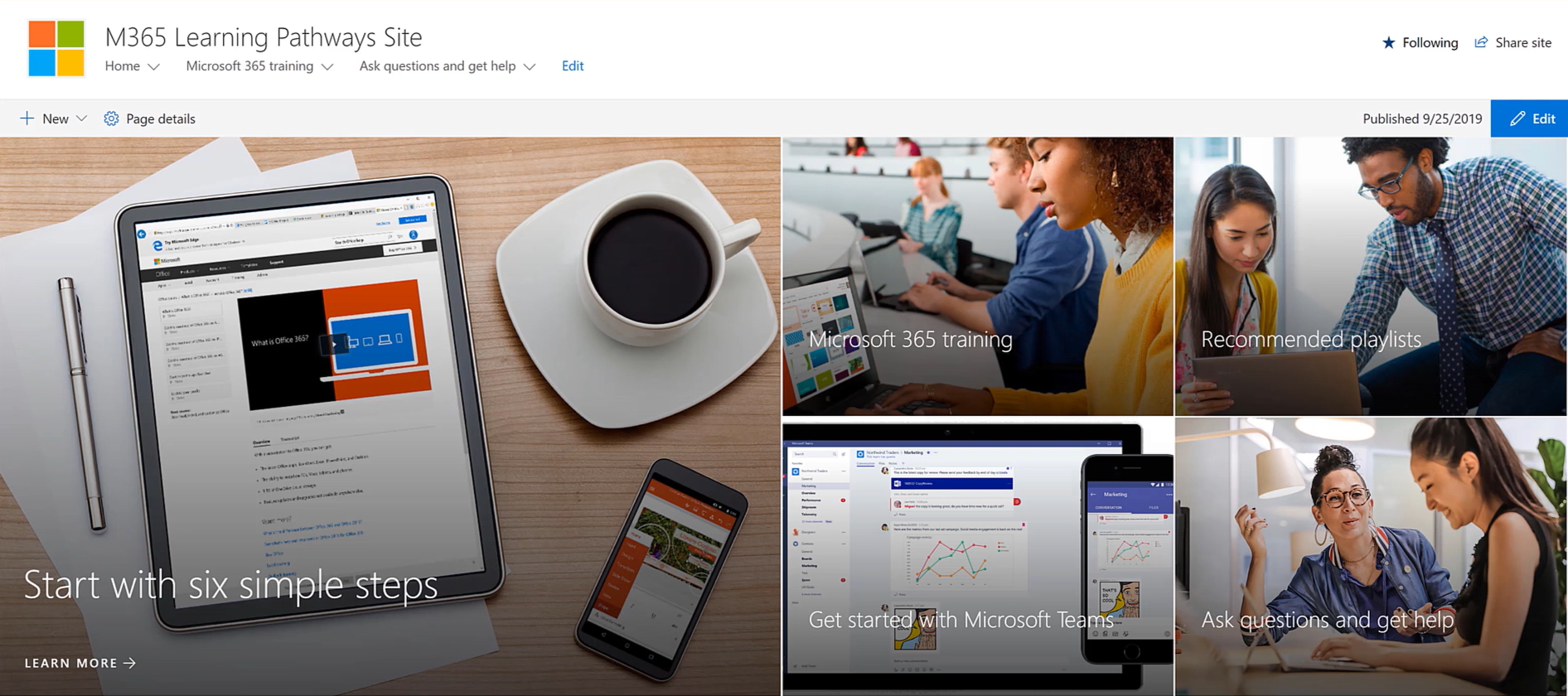 Buying into Microsoft 365 is one thing, getting people to understand it and use it is another. Microsoft is continually looking for new and exciting ways to keep ahead of the digital game and make regular announcements of new platforms and features.
But buying into the technology just isn't enough. Companies need to be investing the same time and effort into their people's digital learning of the new tech as they are in their tech investment.
In this blog, we explore:
Implementation vs adoption
What is Microsoft Learning Pathways?
The benefits of using Microsoft Learning Pathways
Implementation vs adoption
Microsoft CEO Satya Nadella announced some truly impressive figures in April 2020 stating that Microsoft Teams had exceeded 75 million daily active users.
But how many of those people are really using it to its full potential?
Even though implementation and adoption are used interchangeably, they are actually quite different.
Implementation is installing a new solution and training people on how it works so they can use it effectively.
Adoption means having your entire company embrace the new solution and using it as part of their daily routine.
So, how do companies who've invested in the Microsoft 365 estate really bring their people on board and make them feel confident and supported? With Microsoft Learning Pathways.
What is Microsoft Learning Pathways?
Microsoft Learning Pathways is a learning portal or as Microsoft describe it 'a customisable, on-demand learning solution designed to increase usage and adoption of Microsoft 365 services in your organisation'.
Learning portals are a popular choice for organisations to get eLearning to their people in a simple, cost-effective and quick way.
Research has shown that organisations now report that eLearning is the second most valuable training method they use. This is no surprise, given that eLearning saves businesses at least 50% when they replace traditional instructor-based training with e-Learning.
However, managing eLearning content and keeping it up to date can be time-consuming and resource heavy.
With Microsoft 365 Learning Pathways the content is updated automatically by Microsoft directly into your tenant. This way content is always current with new product features and best practices.
Created using a SharePoint communication site, your employees can navigate through various product training and learning content focused on Microsoft 365 apps such as OneDrive, SharePoint, Teams, Yammer etc. You can also add your own training content to the portal.
The benefits of using Microsoft Learning Pathways
Whether it's to keep up with the continued advancements in Microsoft technology, a desire to support remote working or ensuring frontline workers have the same access to training as other colleagues, Learning Pathways really is the on-the-job training solution.
Whether they're a new starter, new to a team or using new elements of Microsoft 365, Learning Pathways is designed to increase the skills of people using Microsoft 365 services in your organisation.
Let's outline the benefits:
1. Build your employees' digital skills – Remote working has become the new norm and with the rapid advancements in digital technology, Learning Pathways is a simple way of delivering bite-sized, manageable training to your people.
2. Microsoft Learning Pathways is updated automatically – Keeping content up to date on a learning platform can be time-consuming and resource heavy. Learning Pathways is automatically updated as and when new features are added, keeping content fresh.
3. It's a free solution – what's not to love! Customers can install the solution into their tenant, customise it and send it to their people.
4. You can make it personal to your business – A customised experience which shows content based on your organisation's usage. So, if you only use Teams and Yammer, you can choose just those products. You can also add your own training content. You can also access it while you're in Teams so you don't have to navigate away from the tool you're already working in.
Continuous development and on-the-job learning are essential as technology continues to advance. Microsoft Learning Pathways is a great tool to help your employees not only understand the tech, but to get them to really use it effectively to improve the way they work.
Would you like to learn more about how Microsoft Learning Pathways could support your people to really adopt your Microsoft 365 tools? Changing Social can support you to make the most of your Microsoft investment including how Learning Pathways can support your people to feel confident in the tech they use. Contact us at [email protected] to learn more.
Share
Related Posts