Stress can be a common occurrence in our lives, and not managing stress can negatively affect our mental and physical health.
Burnout can creep up on us all, making the simplest of tasks feel impossible and can really get you down. There are several ways to manage stress, and technology can be a helpful tool in the process. As remote working becomes increasingly popular, we can utilise the tools we're familiar with at work to help us switch off. Microsoft offers various features and tools that can help you de-stress, take a moment and take a break.
So, lets dive into some tips for using Microsoft to de-stress effectively!
Use the Focus Assist Feature
Distractions can be a significant source of stress. It can be hard to focus when messages, emails and calls are buzzing around you!
Microsoft's feature called Focus Assist can help you minimise those distractions. Focus Assist silences notifications and allows you to focus, undisturbed. You can turn on Focus Assist by going to Settings > System > Focus Assist. From there, you can choose which notifications to block and when to turn on Focus Assist.
You can also do this in Teams by turning on Do Not Disturb mode, and selecting important contacts that will still be able to reach you!
Use Microsoft ToDo
When you have a lot of tasks to complete, it can be overwhelming and stressful. The tasks begin to pile-up and it feels as if there's no time to complete them all!
Microsoft ToDo is a task management app that can help you prioritize and manage your tasks. You can use the app to create to-do lists, set reminders, and track your progress. Microsoft ToDo is available on Windows, Android, and iOS devices.
When the tasks begin to multiply, you can always rely on ToDo to help you get them done!
Try Yoga and Meditation with Microsoft's Guided Meditation and Yoga Apps
Yoga and meditation are incredibly effective at reducing stress and promoting relaxation! Moving your body can help you shake off the stresses of your day, and meditation is a great way to relax and centre yourself.
Microsoft has two apps, Guided Meditation and Yoga, that can help you practice yoga and meditation. Guided Meditation is a free app that provides guided meditation sessions with different themes, such as mindfulness, stress relief, and sleep. Microsoft Yoga is a paid app that offers guided yoga sessions, gently leading you through a yoga flow session to help stretch out your body and melt away any tension!
Use OneNote to Journal
Journaling is a therapeutic activity that can be great for managing stress and emotions. Sometimes getting your thoughts and feelings down on paper – or screen – can help you better understand what's stressing you, giving you some perspective on how you're feeling!
Microsoft's OneNote app can help you create a digital journal that you can access on your computer or mobile device. You can use OneNote to write about your thoughts, feelings, and experiences.
You can also use the app to create to-do lists, track your progress, and set goals; creating a planner that suits the way you work!
Use the Dictate feature in Microsoft Office
The Dictate feature in Microsoft Office allows you to dictate text using your voice, reduce the stress of typing and saving you time on repetitive tasks!
Having your hands free whilst using Dictate gives you the opportunity to make monotonous tasks quick and easy. You can even use Dictate whilst taking a small break to move your body, and stretch out your muscles whilst still getting work done!
Use Insights to Track Work Habits
One of the best features of Microsoft Viva is Insights!
This app allows you to track your work habits and gain key insights into how you spend your time. You can see how much time you spend in meetings, responding to emails, and working on specific projects. This data can help you identify areas where you can be more efficient and reduce stress, helping you work smarter.
For example, if you find that you are spending too much time in meetings, you can try to communicate important information over Teams messages or emails instead.
Set Personal Goals with Viva Goals
Setting personal goals can improve your wellbeing and give you a clear target to work towards. Microsoft's Viva Goals app allows you to set personal goals and track your progress, motivating you to hit your goals!
You can set goals related to your health, fitness, or personal growth. By setting achievable goals, you can boost your confidence and reduce stress levels!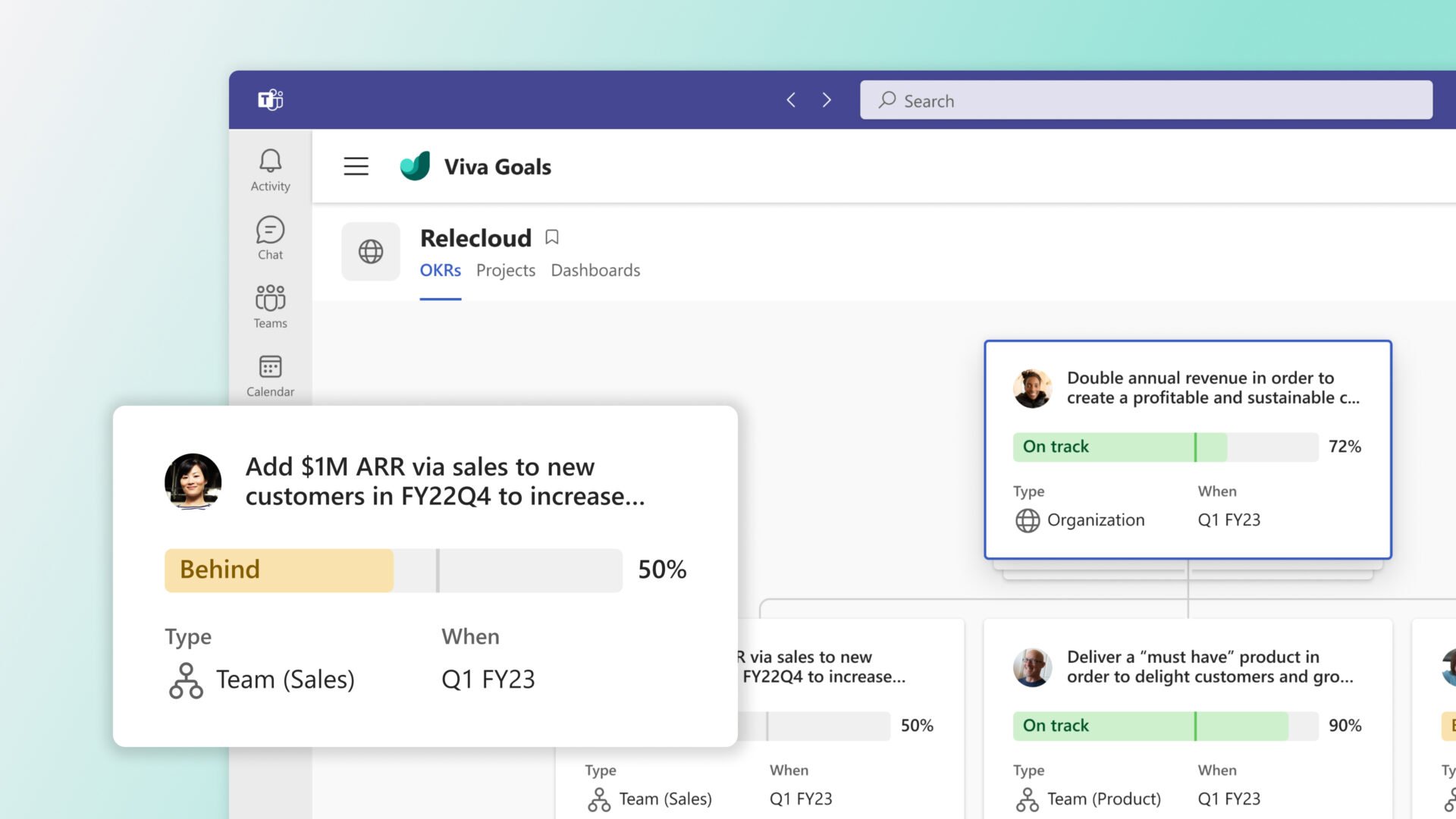 Connect with Co-workers using Viva Connections
Connecting with co-workers is so important for maintaining a healthy work-life balance! By reaching out and building relationships with your team, you can create a working environment that feels open and supportive.
Microsoft's Viva Connections app allows you to connect with your colleagues and build a supportive community. You can use the app to share interests, hobbies, and activities outside of work. Building connections with your team can help create a support network and promote a happy and healthy work culture!
Use Learning to Develop Skills
Learning new skills is a fun way to de-stress whilst gaining knowledge and upskilling yourself!
Microsoft's Viva Learning app provides access to a range of courses and training programs to help you get started on your learning journey. You can choose courses related to your industry or interests and develop new skills!
By learning new skills, you can increase your confidence and have fun learning something new!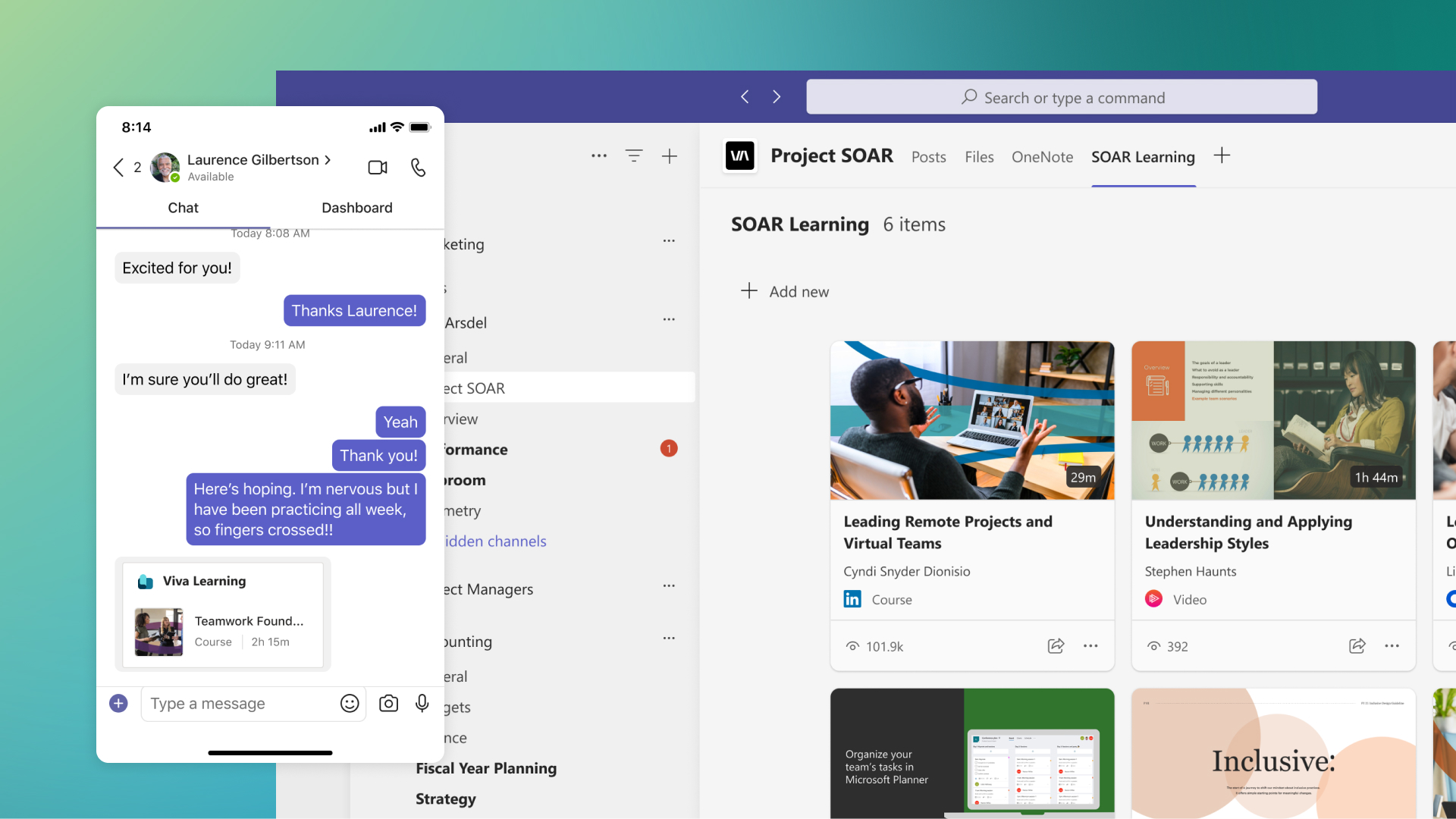 Take Advantage of Viva Topics for Wellness
Viva Topics for Wellness is a curated set of topics that provides information and resources all about improving your well-being.
Viva Topics for Wellness can help individuals and teams take a proactive approach to managing their well-being, providing useful resources to combat burnout, stress and work anxiety.
With Viva Topics, you'll get tips and tricks to help you feel your best!
Stress is a part of life, but it doesn't have to control your life. Microsoft provides several features and apps that make managing stress much easier! By using these tips, you can reduce stress levels, increase productivity and take care of your well-being. In order to be the best that we can be, we have to prioritise ourselves!
If you're looking to improve your employee wellbeing and get started with Microsoft, look no further than Changing Social! As one of the leading Microsoft consultancy firms, we're here to help organisations make the most of everything Microsoft has to offer. Whether you're interested in the Power Platform, Microsoft Viva or Microsoft 365 – we do it all! To find out more, fill out the form to the right, or email us at [email protected] 
Share
Related Posts