Becoming a Digital Champion is a rewarding experience. As well as helping colleagues who might struggle with change, you're also learning new skills. However, not appreciating the time and commitment it takes to become a Digital Champion can be a contributing factor in champion fatigue and a lack of engagement in the programme.
To get an understanding of what our Digital Champions do as part of their role, we delve into a typical week for Sam, a Finance Officer at a large fast moving consumer goods business who recently joined the company Digital Champion programme.
Sam has a real passion for helping her colleagues and can see the benefits that Microsoft 365's programmes and apps would have on her role, her team's role and to the wider business. She explains what a week in her life as a Digital Champion looks like.
Monday: the start of a successful week as a Digital Champion
"It's Monday morning. Morning cup of tea is made and I'm ready to log on. I wonder what today will bring.
"Friday was a busy but exciting day. As well as having my normal workload, I attended the 'What's new in Microsoft 365' webinar as part of our Digital Champion programme.
"This webinar is the last one of the Knowledge and Growth campaign, and I already feel like I've learnt so much about the Microsoft Office 365 technology that our business has at its fingertips but doesn't use to the best of its capability.
"The Knowledge and Growth campaign has been about getting to know the Microsoft 365 apps and growing our knowledge of the tech we have available to us. I've also learnt how to boost my productivity using these tools and even how to use leadership skills to inspire my colleagues.
"We've been working on the Knowledge and Growth campaign for the last three months, and I seem to have managed the extra hours expected of us as a champion on top of my everyday workload. It's worked out at about 3-4 hours a month, so some days I've done 30 mins, some an hour and some days I've just focused on my day-to-day work."
Tuesday: untapping the tech
Being part of the Digital Champion programme has already given me the basic understanding of what all the different programmes and apps like OneDrive, OneNote, SharePoint, Teams, Word, Excel and PowerPoint do, and how they work together to help me work smarter.
The Knowledge and Growth campaign has not only given me the understanding of these apps but it's also given me the confidence to talk to my teammates and colleagues across the business in how they can use them to make them work more effectively. It's crazy how much untapped tech we have and I'm excited to see how much the Digital Champion programme will improve the way we work.
My manager has been supportive of me becoming a Digital Champion and has asked me to present what I learnt from the webinar at our monthly team meeting next week. I'm a bit nervous but it'll also be great to see their reactions as to what Microsoft 365 will be delivering in the future that can improve how we do things and make our lives easier. At the end of the day, that's what everyone wants, right…an easier life?
I've pencilled in some time later in the week to watch the recording of the webinar which has been posted in our Digital Champion team on Teams. That way I can make sure I've picked up all the relevant points and so I'm completely confident if my team ask me questions next week. Having the recordings is great as if I can't attend for any reason, I can watch these back in my own time.
Wednesday: I'm your Digital Champion go-to person
I usually do a presentation for the team meeting so they can go back to it if they forget something, and I always leave time for questions as I find they're more comfortable asking me questions than if our manager was presenting. They see me as their go-to person, and I always say that no question is a silly question. You don't know what you don't know and I was exactly the same before I started on the Digital Champion programme. I love it when they get something and they can see the benefits of it.
Last month, I presented some of the key features of Teams and some of the recent introductions. My manager wasn't aware of the new Dynamic View on Teams webinars which arranges the elements of your meeting to provide the best viewing experience. He even told everyone in his leadership meeting and now they're all using it.
Today I've helped a colleague out who is using Shifts to manage her team. We'd looked at that in a previous campaign so I went straight to Microsoft Learning Pathways and found the video she needed. It only took me 10 minutes and now she's on her way to transforming the way she manages her team.
Thursday: sharing the learnings
My favourite part is sharing what I've learnt with my team. There's always a lot of questions and some good discussions about how we can utilise the tech. I usually get a few questions on Teams after the meetings and have had a few queries from different people across the business.
I feel really proud of myself for achieving what I have in such a short space of time, and I feel I'm really adding value as a Digital Champion to our team and the business.
After every webinar, we receive a feedback form on our Digital Champion team on Teams asking for our opinions and any other feedback we have on the Digital Champion programme. I've been really impressed so far with not only their knowledge but their support and time. It's a resource that we wouldn't have in the business as everyone is super busy with their own work. So, to have a Digital Community Manager dedicated to answering our questions and supporting us is great. I've used the 'Ask the Expert' on our Teams site to get clarification on a few things which I wasn't sure about. They've been so helpful.
We also receive regular 'top tips' from our Digital Community Manager which I send on to the team. There are some really useful tips on there and also any new features on the apps.
Friday: wearing my Digital Champion badge with pride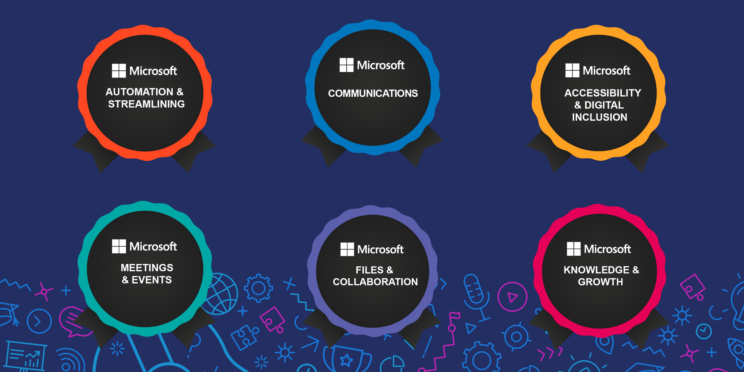 At the end of each campaign (there's six campaigns in total), we have to complete a quiz to show we've understood everything we've learnt. I can't wait to do my Knowledge and Growth one as I get a badge…six to collect! I'm going to wait until next week after I've presented so I can wrap everything up.
I'm quite competitive so I like that my badge will show on my Digital Champion profile. I can also complete an extra challenge and gain points as there's a Digital Champion leader board.
Being a Digital Champion, I feel like I've not only achieved something for myself, but I'm really making a difference to my colleagues working lives. I can't wait to see what the next campaign on our Digital Champion programme is all about!
If you're thinking about whether a Digital Champions programme would help your organisation adopt Microsoft 365, get in touch. We can walk you through our leading Microsoft 365 Digital Champions programme and discuss how we can help you realise the benefits of Microsoft 365 in your organisation. Email [email protected]