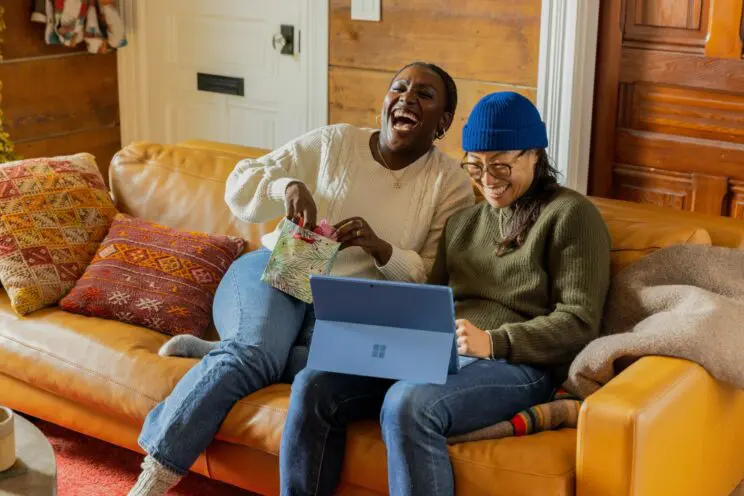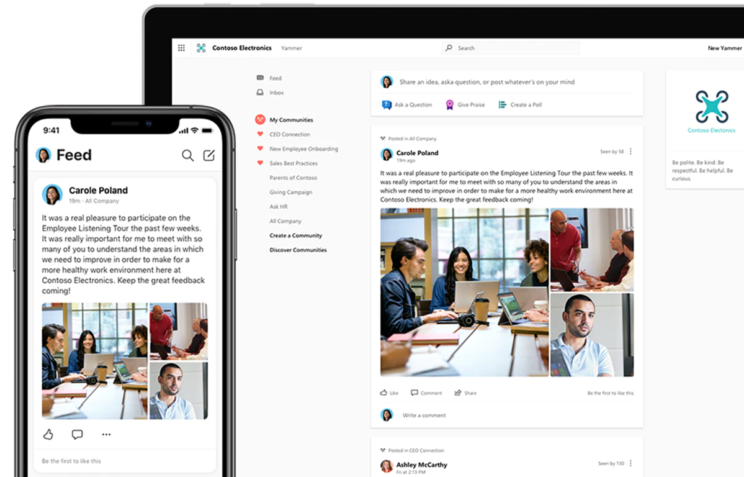 Yammer is an enterprise social network that gives employees a unified, secure and private place to connect and collaborate across the business. It's used for internal communication, problem solving, and more. Yammer allows you to create private or public groups based on your organisation's structure, making it easier for teams to share information internally without clogging up email inboxes with unnecessary messages. In this article, you'll learn what Yammer is and how Yammer works so you can decide if it's right for your team or company.
What is Yammer used for?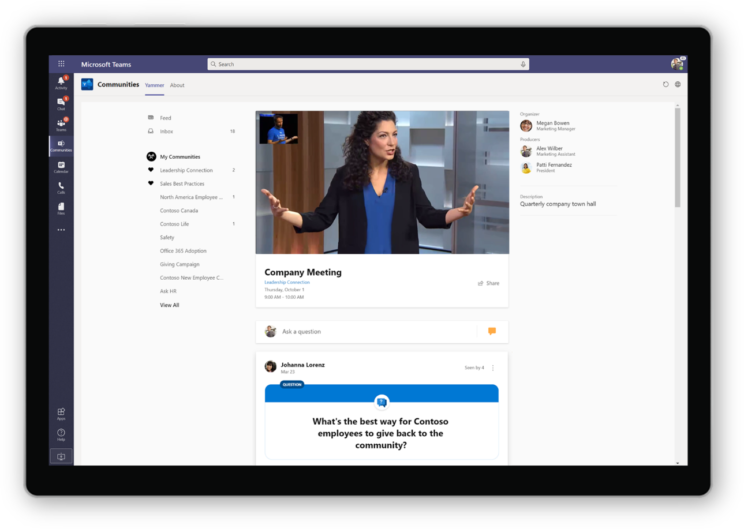 As mentioned previously, Microsoft Yammer is an enterprise-level communication and collaboration platform, connecting people with the information they need to work more effectively across boundaries and across your business or organisation.
To delve more into how Yammer works, let's look at what it's particularly suited to:
Crisis Communications

Company updates and two way conversations

Live Events

New Employee Onboarding
Allowing immediate feedback and the ability to take control of any issues as they arise, as well as keeping people in the loop about issues and company activities wherever they may be.
The benefits of using Yammer include:
Lightweight client and superior browser experience via extensions for all popular browsers, for example, Microsoft Edge, Google Chrome
Tight integration with other Microsoft 365 products, for example, email in Outlook.

Security is inbuilt, and it's easy for administrators to manage users and content

Users will instantly feel at home due to the presence of familiar social media features, 'LIKE' and 'SHARE', for example.
Yammer is perfect for businesses and organisations with multiple departments from first-line support personnel, marketing, IT, sales, and HR to name but a few. This is because Yammer is scalable and integrates well with systems you already use, like SharePoint and Teams, and of course, Microsoft 365 products like Outlook.
Which companies use Yammer?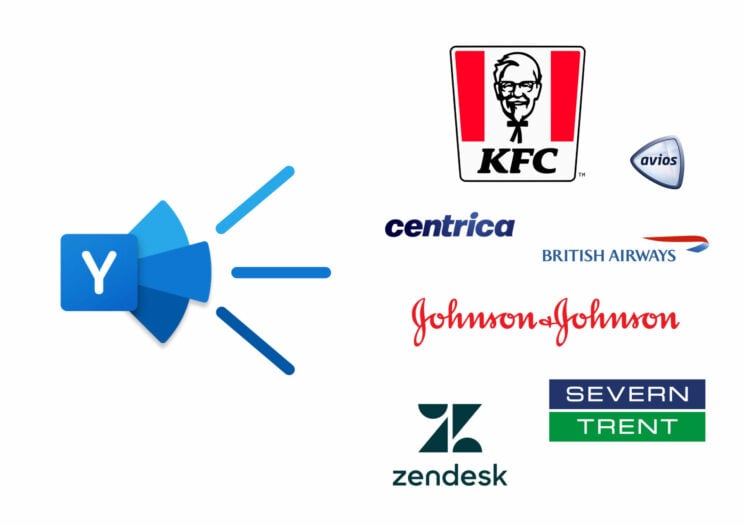 While Yammer is most commonly used by large corporations, it's also popular with small businesses. In fact, over 100,000 organisations around the world use Yammer to communicate and collaborate more efficiently.
From financial services, healthcare, legal, technology at large and education, any business or organisation with employees that need to collaborate, keep in close communication, and stay in the loop enabling decisions to be made faster could benefit from adopting Microsoft Yammer.
Some of the benefits that users have consistently reported include:
Provides a company-wide connection on one platform

Easy to set up and use with an almost flat learning curve

It can be used as a repository and new staff members can read past announcements or ask questions as part of their onboarding experience, helping them to feel at home and making them instantly more productive

Adopting Yammer across an organisation can potentially unite a business with its employees, especially if they are spread across multiple locations

Increasing employee engagement leads to better performance and happier end users and/or customers.

Powerful search capabilities mean that required information can be found without too much effort

Yammer can be used to bring interest groups together, for example, company sports teams or special interest groups and training. This fosters a sense of belonging and can increase morale.
Can Yammer be used Externally?
You can include users from outside your network in your conversation by utilising external groups with your Yammer network which is fine if you only need to integrate a few users.
Where the need for more users and better controls is required, you can use an external network, including groups that make things more manageable.
Whatever the use case, Yammer can adapt and Changing Social can help to make sure you have the implementation that best fits your business.
Will Yammer be discontinued?
Microsoft has recently debuted Viva Engage which is marketed as an app for digital communities. They say it demonstrates the value of their 'employee experience platform' to businesses just like yours.
Part of the Viva suite, it's available to all commercial users of Microsoft 365. Like Yammer, Viva uses familiar social media concepts and the feel of it will make it instantly accessible to most end-users.
It's primarily aimed at businesses that would benefit from much tighter integration with Microsoft 365. In effect, Viva Engage facilitates a fully-fledged social layer experience throughout M365.
Inevitably, this leads to suspicions that Yammer will be replaced by Viva Engage.
The short answer is no and the two will live side by side. Microsoft has stated that Yammer will remain the standalone experience for employee engagement across the web, mobile and desktop.
They have reaffirmed their commitment to Yammer by promising to continue development and 'creating a richer, deeper Yammer experience throughout Viva Engage and Microsoft 365.'
So Yammer is not going away any time soon, likely to co-exist and continue to serve users who've grown to love it for many years to come.
Viva Engage Vs Yammer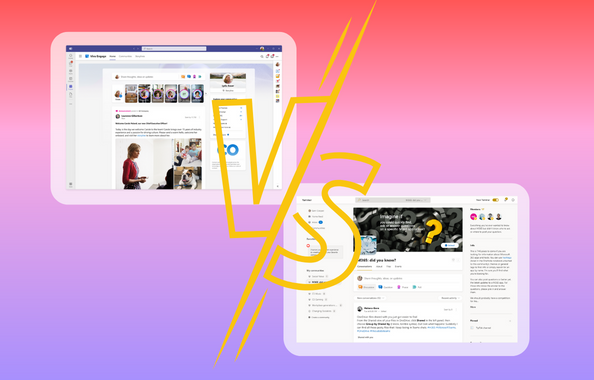 There will inevitably be comparisons between Yammer and Viva Engage, and each has it's own pros and cons, strengths and weaknesses (of course, nothing is perfect), and balancing these might help you to decide which product is right for you.
In a nutshell, here are the major points:
Viva Engage has no native desktop client, unlike Yammer (Windows only). However, both are available via the web and have clients for iOS, iPadOS and Android. Neither platform supports Google Chromebook natively at present.

Neither platform currently support an API (Sourceforge.net)

Only Yammer offers support directly from Microsoft during business hours

Both have Microsoft's extensive online support documentation and are covered in excellent product-specific forums.

Viva and Yammer inevitably overlap in terms of features and capabilities – especially as Microsoft intends to meld appropriate features between the two. Ultimately, if you want to implement a deep social network for your company through Microsoft 365, Via Engage is your best option. For communication without the heavy social integrations, then Yammer is your choice. Of course, things are rarely that simple in business and particularly in IT, so consult a qualified professional.
The Microsoft 365 experts at Changing Social are always on hand to help you make sense of the differences and choose a solution that's right for you and your employees so that you can use the most appropriate platform to drive your business forward.
For more information on how Yammer works, or to see Yammer in action, please do get in touch via email at [email protected] or simply use the form below.
We look forward to helping to improve communication within your business or organisation.
Share
Related Posts