We've all faced this problem before – you're doing some work and need to find out more about some specific terminology that you've never heard of. Usually in this instance, you would go and search online for answers, or perhaps contact colleagues to find out more about it.
This can take time, distract from what you're doing and be a bit of a hassle. Microsoft Viva Topics solves this issue, elevating your employee experience by bringing all relevant definitions, documentation and experts together without having to leave the page you're on.
It's a great solution to engage employees and save valuable time, and is highlighted in Microsoft Viva, SharePoint and the topic centre home page as well as Office apps like Word – read on to explore how to boost engagement.
What are the benefits of Microsoft Viva Topics?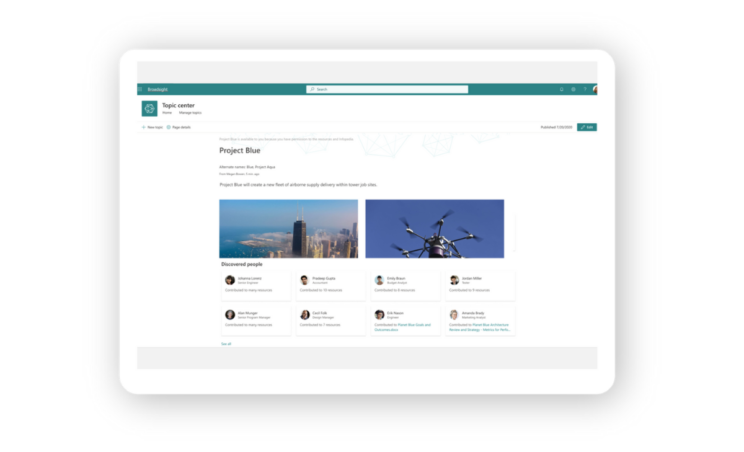 Knowledge is contextualised – the information is delivered to you the moment you need it, which will help you retain it and saves you the need to 'guess' what a term means.
You don't have to search elsewhere – unlike traditional knowledge management, it is built into the pages your own which means you don't break your flow of work or risk getting distracted, and it saves time.
Find experts on the subject fast – you save time as you don't have to ask around for a relevant expert etc.
Find key information quickly
Viva Topics is integrated in the intranet and highlight key information, experts and documents surrounding the topic. They are AI built SharePoint pages that pop out as information boxes (known as topic cards) to provide all of this information without having to leave the page you're on.
A topic will be underlined/highlighted and opening out the topic card will offer a subject overview/description, related documents and sites and suggested experts. This takes away the need for complicated searches, content or tab switching, having to open multiple apps etcetera. as all information is presented immediately in one easy to use place.
Connect with experts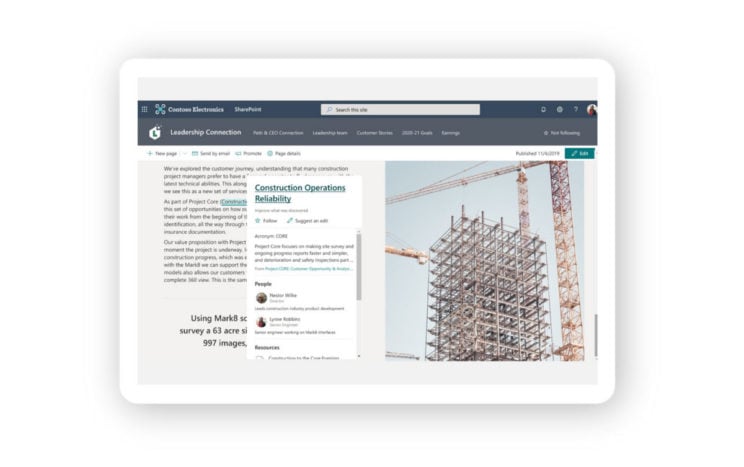 Topic cards will suggest experts in the topic which gives you the perfect opportunity to connect with others, perhaps new colleagues you have not spoken to before, and learn more in depth knowledge through chats or meetings if you need.
This not only will facilitate better engagement, but better collaboration within the organisation as different people can work together to speed up the work process, add experts to projects if needed and ensure knowledge sharing is a top priority.
The topic centre is the home of all organisational knowledge, giving users access to the Topics they have a connection to. Here, users can view suggested connections to topics they are experts in to approve or decline them – for example, if they have contributed to a related document, they will be suggested that topic as determined by Microsoft's artificial intelligence.
Once approved, other users will see them as experts and have the option to connect and engage.
Want to read more about Microsoft Viva Topics? Check out our previous introductory blog or check out more about our Microsoft Viva Topics services here.
Looking to engage your employees and colleagues more in this new hybrid world but not sure where to start? If you're considering implementing Microsoft Viva Topics or any of the Viva Employee Experience components, Changing Social can help you! We can set up a free consultation to prepare you for success and ensure organisational rollout is smooth. Email us for more information at [email protected] or fill out the form below and we will be in touch.
Share
Related Posts