Over the past six months, we've seen a rapid burst of activity in the AI space, with software like Chat-GPT and OpenAI making waves all over the world.
For some, the introduction of software like Microsoft's Copilot is hotly anticipated. There have been overwhelming levels of excitement for the innovative capabilities Copilot can bring to the modern workplace, and the positive changes it will make. Whilst we don't know the full extent of Copilot's incredible capabilities yet, from the initial insights into the Early Access Programme, Copilot is set to revolutionise the way we work.
However, not everyone has embraced the AI era yet. Concerns have been raised over the rapidity AI advancements, questioning the safety of using software with this level of intelligence.
As a Microsoft partner, Changing Social are incredibly excited to welcome Copilot into our working environment! We spoke to members of the team to hear their thoughts about the upcoming release of Copilot.
Hannah Ballard, Community Manager
Hannah looks after the communities taking part in our Digital Champions programme, offering continuous support alongside delivering incredible training webinars to the champions.
"I am excited to see how we can put the versatility of Copilot into practice across the different industries we work with. Personally, I am most looking forward to using Copilot to develop SharePoint sites that would otherwise be a time-consuming task."
Sam Cooper, Head of Marketing
Sam is responsible for all things marketing at Changing Social; from branding and building online events, to creating collateral and web-design.
"Copilot for me will absolutely change the game. I'm my role, I regularly use Chat-GPT to help shape structure of copy and devise new ideas. Have something like this surfaced in Teams (Where I spend most of my time), will be a huge time-saver and productivity booster."
Helena Gore, Senior M365 Change Consultant
Helena delivers amazing adoption & change management strategies to our customers, supporting them through their digital transformation.
"The opportunity for people to harness all the tools in M365 apps is so exciting. However, I do see that it will need formal adoption and change activities with M365 experts to make sure that business users can use their data and M365 apps and tools properly. In doing so everyone will be able to use Copilot with confidence."
Our Marketing Assistant Nina Watson, also interviewed our founder and Managing Director, Steve Crompton, to hear his thoughts about the upcoming release of Copilot, using AI in the modern workplace and best practices for using AI software.
Q: Are you looking forward to the introduction of Copilot?
"I'm very excited about Copilot. I think it's such a fantastic innovation and it's very timely in the market as well. I'm astonished by the pace of change that we're seeing in the market at the moment, it seems like it is an absolute wave, particularly in the AI space. Not just from Microsoft, but the amount of companies and opportunities for AI in in the workplace are absolutely huge. Copilot is a fantastic entry point into that, and I'm excited to see where Copilot will eventually get to."
Q: Do you think Copilot will be widely adopted, and if so, how dramatic do you predict its impact will be?
"It will be completely revolutionary, and it's nothing like we've seen before. The impact on the workplace will be immeasurable, and will be entirely transformative. There will be a learning curve to go through, but once we adjust, our way of working will be completely changed for the better. Copilot will have as big an impact as email had on the workplace, there's nothing out there like it. I think people will be incredibly keen to adopt it, but what is meant by 'adoption'? It's the general acceptance of a new way of working or a new tool set. I think there is going to be some resistance to adoption, which is where we can support in managing and overcoming blockers so it can be adopted. As with anything that's new and unfamiliar, resistance is expected. But we're here to show the incredible capabilities that Copilot has, and how it's the most transformative tool on the market. There will be – and already is – an extremely high level of interest and a very high demand, and I think we're already seeing that from our customers asking questions about Copilot and wanting to learn more about it."
"I think it will be very dramatic in terms of adoption. It's set to change in the way people work, and has the potential to be huge in every aspect, especially in terms of time saving. It will increase efficiencies everywhere, in scenarios where people didn't even realise they could have improved. I think it will make people much more effective as people. It will give that feedback to the person and provide a micro-learning opportunity for the individual to make their work more effective, not just more efficient."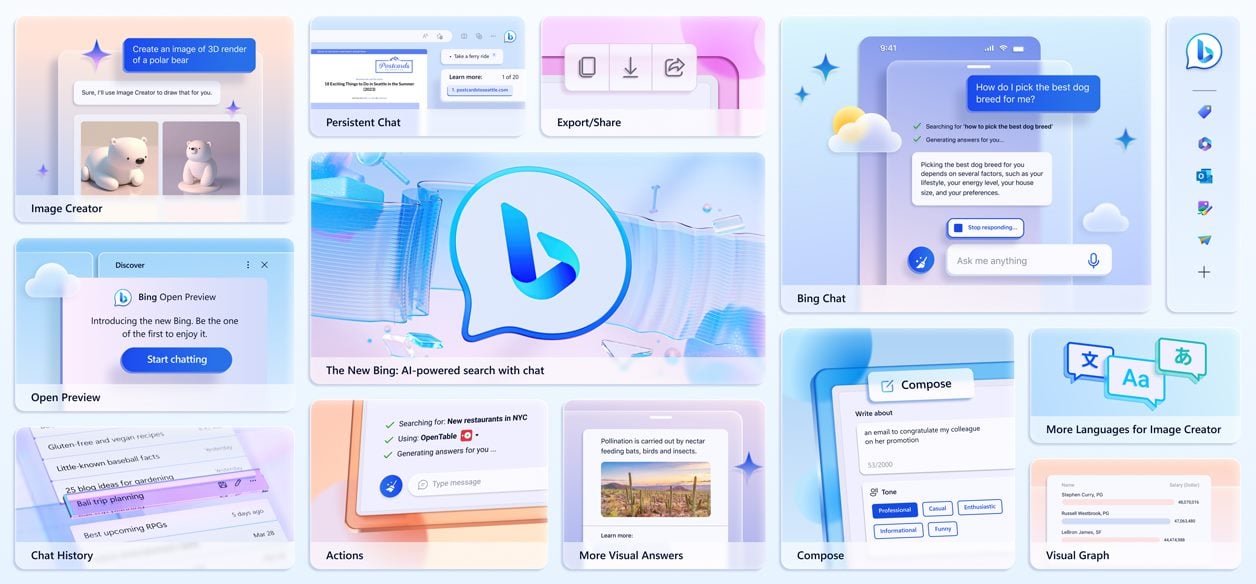 Q: How do you see AI or Copilot being integrated into the modern workplace, and our modern workplace at Changing Social?
"It will be available for everyone from day one, and there's definitely going to be excitement from the people that we've got here at Changing Social in terms of using it. It will cover all aspects of M365, so I that's very exciting for us!"
"I think those people that are resistant to AI and are a little bit concerned about it, would be missing out on potentially a hugely beneficial piece of software. It's all about making use of the tools that you have, not necessarily fighting it, but finding a way in which it works for you."
"I think it will be incorporated into the modern workplace and people of all generations need to learn how to how to use this effectively, which will lead to a whole awareness and education piece around the governance of AI. We need to recognise when to use it, and equally when not to use it."
"One of the things that we're going to be looking at is what an AI maturity model looks like in the modern workplace? What does that really mean? Off of the back of those questions, we're going to be making sure that we go through the right change management structure because this is a huge change we're talking about! It is going to be a dramatic change in the workplace and with that you need to have a solid strategy and plan of what you're going to be using this for, how you're going to be using it and what those best practices are. What's the training? What's the appropriateness? All of those types of things need to be considered."
"Otherwise, I think because it's so new there's going to be lots of 'bad habits' that arise from adopting without a clear strategy and plan. It's going to be very hard to unchange those behaviours, whereas if organisations start thinking about best practices before adoption starts, everyone starts from a good foundation."
Q: Obviously we are an SME business at Changing Social, how do you think that this will positively empower small businesses like us?
"It goes back to Satya Nadella's message that he re-emphasised last year, which is that this era of Microsoft is about doing more with less. Being an owner of a small business and the owners I speak to that have small to medium sized businesses – everyone's really, really excited about the introduction of AI, and Copilot as well."
"I think it will help people do more with less, and I think that's the struggle with small businesses, the owner usually wears multiple hats and probably doesn't have all of the resources that they would like. Copilot provides that opportunity for someone to be more effective as a small business owner. The people within a small business also wear multiple hats, and this will help them become more efficient in what they do, and achieve more with less."
Q: How do we use AI technology like Copilot responsibly? And, how do we approach being transparent about our use of AI within the organisation?
"I know what you mean, totally. But when someone like you uses AI tools, it's not the end of the work. I think it needs to have that human touch and personality that's brought through it. It still has to be looked at and reviewed, and that's where you get that creativity and that human element to come into play."
"I remember a quote from someone at Microsoft actually, that 'Copilot is going to be a dramatic change as much as the internet was in itself'. People had to learn how to use the internet, and I think people are going to have to relearn how to work with AI in the workplace."
It's clear that the team here at Changing Social are incredibly excited to welcome the new era of Copilot! Whether you're eagerly anticipating its release, still unsure of how you'll use it or looking to find out more before you jump in, AI is something we all have to learn to work with. We understand that Copilot may seem overwhelming from the outside, but champions of change like Changing Social are always here to help you make the most of this extraordinary software!
If you're looking to make the most of Microsoft and all it has to offer, Changing Social is here to help! We help organisations make the most of their Microsoft licence, from building apps in the Power Platform, to adoption strategy & change management, to comprehensive training programmes – we do it all. To find out more, fill out the form below, or email us at [email protected]
Share
Related Posts